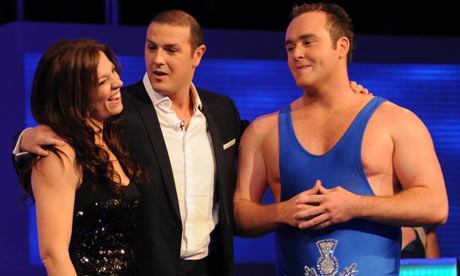 - Image taken from the Guardian website. No need to write a caption, image speaks for itself.
I discovered a whole new form of Saturday night entertainment. It was like watching Paloma Faith trying to eat a man's face with chopsticks. Because she WOULD. Did you see her on never mind the buzzcocks? WHOA. Watch yourself Noel.
The show in question is 'Take me out' hosted by Paddy McGuiness. No, he is not Irish. Shakespeare was wrong; a rose by any other name would not smell as sweet. Same applies for a turd dressed in a suit with an Irish name but none of that Westlife charm.

I'm still trying to come to terms with what I'd willingly allowed myself to witness, although the fact that it was on ITV should have been my first hint. This is a channel, or 'side' if you can't help but be northern, that annually shows people eating kangaroo bollocks before the watershed. As much as I advocate balls in mouth action, there is something too disturbing about the image of Jordan gorging on some hairy nutsack (no, not Andre) whilst her voluptuous boobies burst from a tank top like some spider had laid it's eggs in her chest and it's the beginning scene to the sequal of Arachnophobia: Welcome to the Jungle. So yes, shame on me for even turning on ITV and thinking I could expect anything but the lowest common denominator of entertainment.
For those not in the know, Take me out is like a re-vamped fake taned version of Blind Date. Except there isn't anything blind about it, although judging by some of contestants, you'd think they'd hired Stevie Wonder as casting director. I can take this joke even further you know...ahem...'Stevie once famously sang 'for once in my life' and for these girls it was definately 'for once in my life...it won't end in rape/the clap/kebab fist (delete as appropriate)'. OH BURN. I'm sorry. My mother should be ashamed.

The concept: Get 30 single girls, make them dance, hollah and jump up and down whilst an all too willing chap reveals details about himself...if the girl likes what she sees she keeps her light on, if not, she switches it off. If all 30 girls reject you, you get a 'blackout' and I suppose end up giving Paddy a blowie in the green room later. It's probably the simplest 'gameshow' out there, similar to deal or no deal in terms of brain cell usage. And I guess calling these programs 'gameshows' is really banal because no skill, intellect or even in the case of Take me out, clothes, are required. WANT SEX, DON'T PRESS BUTTON. DISLIKE, PRESS BUTTON.

Take me out is pretty raw, everyone looks and sounds like they've just been coaxed into the studio with the offer of chips and a pint after a night out in Manchester. Paddy comes out with some real corkers, things like 'let the oyster see the pearl' when he's introducing the male victim, I think this week he managed to make one of these Paddy-isms with the word winkle but I'm not even going to open that tin of worms. Even simple instructions turn into horrific dinnerlady/unsexed aunty phrases like 'no likey no lighty'. Not even a baby would take that sort of diluted attempt of a rhyme. A baby would literally shit itself if you decided to speak like that. It would shit itself so you'd then have to slowly unwrap it's little shitpad and clean it, because that would be what you'd deserve.

The girls are a sight. Just like that youtube clip of the plane going into the tall buildings. A HORRIFIC SIGHT. There's so much fake tan you could oscillate the studio and turn it into a 590nm LASER. There's the usual Guassian spread of fake boob vs no boob, lip liner (which always reminds me of Minstreals for some reason, I'm sorry, blame Robinsons jam) and hair extensions. I hate to generalise, but a lot of these girls you'd take one look at and think 'god, is she from that video on redtube?'. Most of the girls are literally zombie-biting the air as the guy walks past, grabbing at his clothes or shrieking as if they were in the company of David Beckham...when in actual fact its more like Wayne Rooney. Considering that these girls do look 'good' it is bizarre how they seem to lose all sense of self worth in a TV studio for a guy who if they even glanced at in a club, would literally make milkshake in his pants.

Some of the girls however seem genuinely 'nice', if not a bit desperate, coming out with phrases like 'you can bang my drums anytime' or 'let's get sweaty working out together'. Obviously all implying that their legs spread faster than margarine on a hot day. It's really quite shameful. I'm no feminist; I've got no time for bra-burning-live-by-the-vagina,die-by-the-horse-trampling bullshit, but I do value respect and some slight hint of decency towards women. Things which these girls seem to not give a toss (ha, apt choice of words) about.

In the end, if the guy isn't a total fail of a human, a date is arranged. They are whisked away easyjet style to a lovely beach where they spend approximately 2 hours actually being able to sit and talk to each other. Unlike Blind Date there is no recap or real closure and you never really know if anything happens between this match made in studio 7. Although I'm sure in a few months time we'll see some of the same faces at the receiving end of a Jeremy Kyle word-rage.